CAMBRIDGE TARRAGINDI TAZ (1999-2009)

** A PET AUSTRALIAN TERRIER **

This is Taz's Homepage
This webpage is a final memorial to our former pack member, Taz. This site is dedicated to pet owners and breeders of Australian terriers. The emphasis of this site is the life and times of Taz, a gifted and beautiful dog. Click on Taz's picture for a surprise.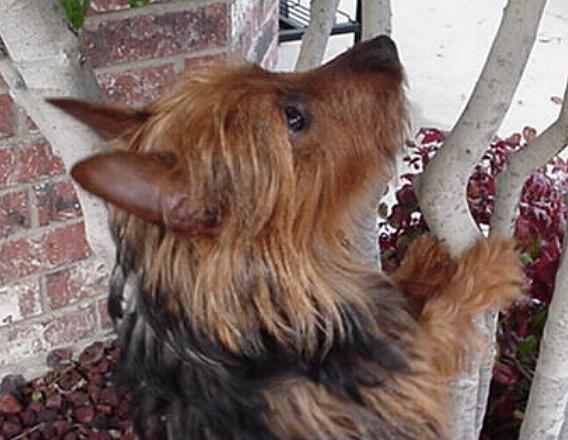 TAZ
Welcome to Taz's Web site!
ABOUT TAZ
"Cambridge Tarragindi Taz" was born on February 16, 1999 and became a member of the Schuster family 10 weeks later.
Taz passed away on December 25, 2009.
Taz was a Blue & Tan Australian Terrier. Click here to see his baby picture. Click here to see our favorite puppy photos.
TAZ's NAME
Taz's name was derived as follows: "Cambridge" identifies and honors the breeder's kennel name. "Tarragindi" is a suburb of Brisbane, Australia. Taz's Auntie Helen lives in Tarragindi with her husband and children. "Taz", of course, is short for Tasmanian Devil. This name aptly describes at times the personality of an Australian Terrier. Taz is also an easy name for humans to pronounce and for dogs to recognize.
TAZ's FAVORITE THINGS TO DO
Taz loves to play and snuggle. As a puppy, his favorite toys included a stuffed crocodile that squeaks, nubby plastic footballs, and squeaky rubber basketballs. As an adult dog, Taz has graduated to full size footballs, but he still loves those squeaky rubber basketballs. Taz enjoys chewing on rawhide strips and animal hooves. Taz is also a very efficient bug finder and killer. House flies and spiders have a very short life expectancy at the Schuster house these days.
Taz has developed into a lovely lapdog. He enjoys sitting with his family (especially with Mom) on one of the La-Z-Boy chairs, at his family member's feet, on their lap, or on their chest. Unfortunately, the original stuffed crocodile succumbed to Taz's massive teeth, but Santa brought Taz a surprise for Christmas. His favorite toys are now the squeaky rubber basketballs. Taz also loves to have his tummy rubbed. He often plops onto the floor, turns on his back, and barks to signal that he is ready for his tummy rub.
Taz's world includes a lovely backyard. Taz has free run of the fenced backyard and may enter and exit at his leisure through a doggy door. Check out Taz's Outdoor World. A bird lives in our back yard. Taz wants to get the bird. But Taz is small and the bird lives high up in the tree. Being an Australian Terrier, Taz doesn't realize that he is so small. He thinks he can get the bird. And he tries, and tries, and tries... Click and check out Taz versus The Bird.
As part of his training routine, Taz sometimes challenges Garfield to a fight to the finish. While Taz's family doesn't normally support fights between cats and dogs, Taz insists that he needs this training in order to eventually defeat the bird.
Click here to see photos of Taz and Garfield going at it.
See more of Taz in "Snippets of a Dog's Life".
Taz loves to chase and pop nontoxic children's bubbles. Click and watch the Bubble Ballet.
TRAINING
As a puppy, Taz graduated from Puppy Kindergarten where he socialized with other dogs and learned some basic obedience commands. Taz was easily house trained (mostly) and sat near the door when he wanted to go out. If we were not paying attention, a sharp bark told us he wanted to go out. Of course, now he goes in and out as he pleases through the doggy door. He knows sit, down, stay (for very short periods), come (when it suits him), and leave it (unless there is a bug in his mouth).
Taz has become a well socialized dog who loves people and is very gentle, unless you come through the front door. Click on Welcome To My Home. He (mostly) obeys the basic commands and does not get into trouble (very often). Taz does suffer a bit from separation anxiety. Fortunately, one of his brothers lives at home and stays with Taz during the daytime when Mom and Dad are at work.
During his first year, Taz regularly got refresher training from his family and he periodically got refresher training with a professional dog trainer. Actually it was Taz's family that got most of the training from the professional dog trainer. Now that Taz is a well socialized family pet, you might think that training is no longer needed. But to keep up his skills, we still periodically give Taz refresher training on the basics.
E-MAIL
Taz loves to receive e-mail. His e-mail address is taz@tazaroo.com.
Taz receives e-mail from may wonderful friends and acquaintances. Check out Taz's Friends!
Taz has a sister, Mindi. And Mindi has her own webpage. Be sure to visit both Taz's and Mindi's webpages often to follow their exploits!


Click on Taz to see if he is ready for some football!
---
Favorite Taz Photos & Albums
See more pictures of Taz in action on the Schuster Family Homepage.
This page was last updated on December 26, 2009
---
---
Taz is an Aggie dog.
Please click on the Aggie bonfire symbol to learn more about how this tragedy impacted Taz and his family.
Texas A&M

Aggie Bonfire Tribute

gbbm